The retreat center, a brand-new facility, is lovingly referred to as the "FFC," standing for the "FAIR and FIRM with Connie" retreat house. The FFC sits on 5 private, wooded acres 30 miles North of downtown Atlanta. If you are driving in, you will be given specific driving directions. If you are flying into Atlanta, we will pick you up at the airport, but we may need to coordinate flights for multiple attendees!
Onsite is a 1500-square-foot lodge-type room with a full kitchen, dining table and a gathering area for learning and sharing. A beautiful fireplace and a 75-inch screen for viewing PowerPoint presentations and welcoming virtual speakers creates a relaxing, restorative environment. Three comfortable West Elm couches with lumbar support cushions make for a very comfy sitting experience. Additional pillows and blankets are available for use during the day and at night! Two rest rooms are on the main floor. Coffee, tea and water will be available at all times on the main floor, along with sugar-free sweeteners and sugar-free syrups, as well as half and half.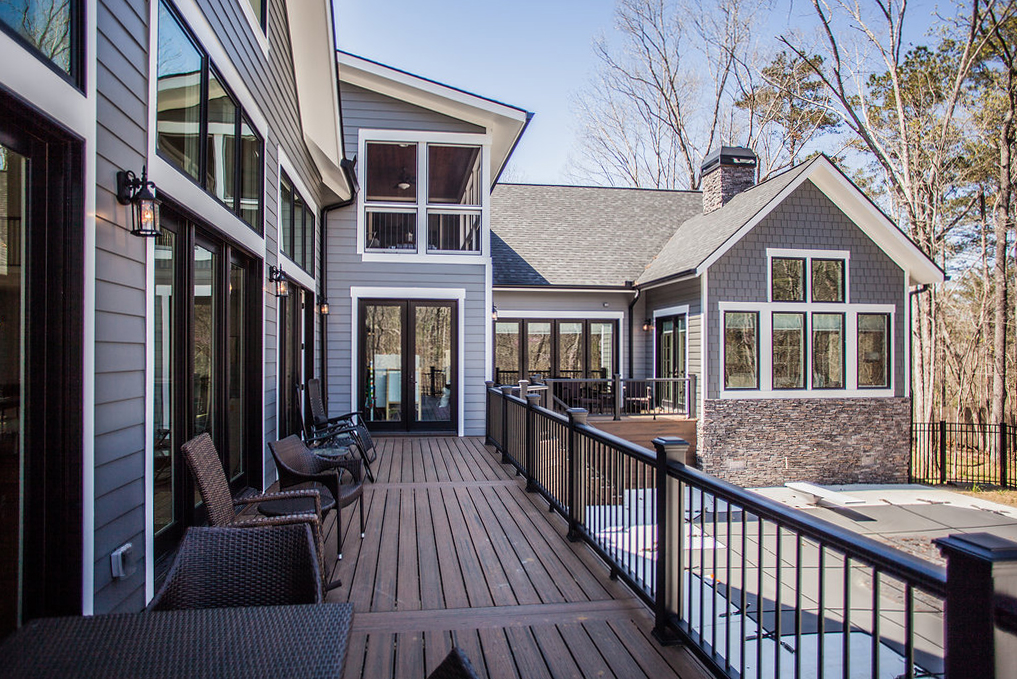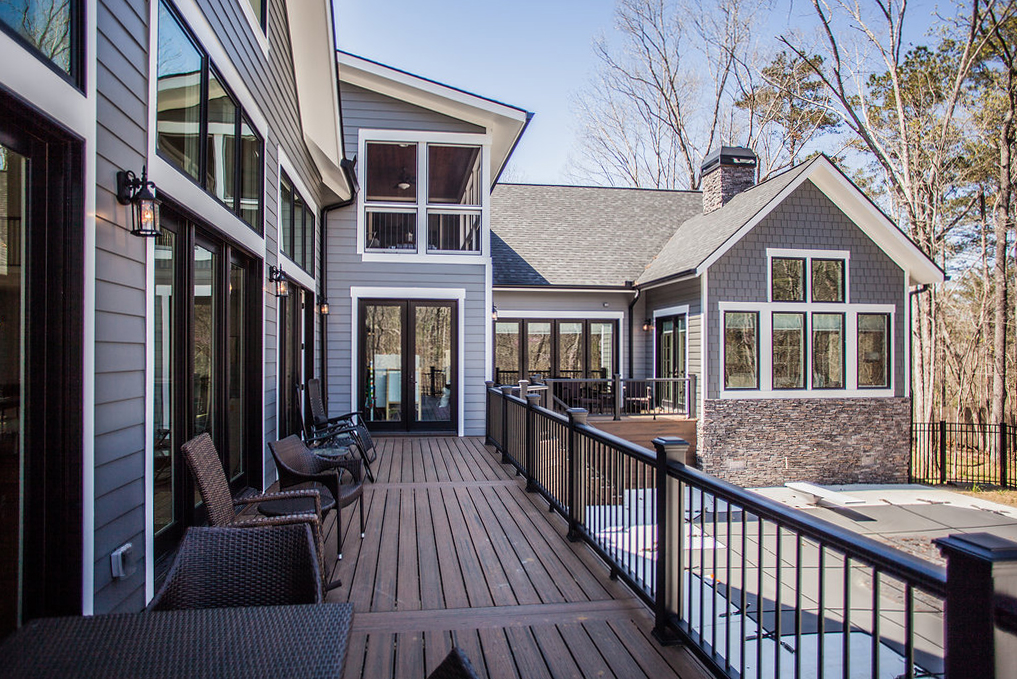 There is an in-ground pool for those who opt to exercise, play and/or relax in the water (depending on the weather, of course). There is also a fire-pit where people can sit and chat. Group discussions may take place around the fire-pit, weather permitting.
A screened-in porch on the second floor overlooks the pool and the serenity of nature. This is a great place to have a private conversation, to write in your journal or to play a board game!
All beds are on the second floor. Therefore, all participants need to be able to safely and comfortably climb a full set of stairs at least one time per day. There are 8 double beds, one bed for each retreat participant. There are no single rooms. Both the "Firm" and the "Fair" rooms will accommodate two persons each. A Jack-and-Jill bathroom with two sinks, a shower, and a toilet (in the privacy of its own four walls) adjoins these two rooms for sharing.
The "Community" room is a bunk room with two sets of bunk beds (hence, the reason for calling it the Community room…) although we all need a strong, supportive community in our lives). A set of regular-sized stairs gains two adventurous participants access to the top bunks. There is limited headroom for these bunks, so you would need to be able to bend over at the waist and crawl in and out of these beds. Sleeping arrangements are assigned first-come, first-served by request, so we can't guarantee that special arrangements can be made for late registrants. Again, all beds are double size beds with double size mattresses, even the bunk beds! A full bathroom with double sinks and a walled off toilet and bathtub/shower are available for this group of four to share.
There are no price differences for any of the rooms. Everyone will be comfortable ("enough," considering you won't be in your own bed in your own home)! Each person will have two pillows of varying densities and firmness on their bed. Additional blankets are available for those of you who may, like me, tend to be cold at night!
Water is allowed on the upstairs level, although no other beverage and no food will be allowed on the second floor.
WHAT TO BRING and WHAT NOT TO BRING
Following are lists of things you will want to bring and another list of things you don't need to bring with you to the FFC retreat center.
Feel free to get in touch with us at info@fairandfirmretreats.com for any questions that you might have.
What you will need to bring:
COMFORTABLE CLOTHING (Dress comfortably!!!!! We are here to learn and connect with one another. This is NOT a fashion show! You will want to be as comfortable as possible as your days are going to be long! Heck – makeup is optional!)
A swimming suit (if you want to get in the pool)
Exercise wear (bike pants/tights/shorts/track pants)
PJs, (Whatever clothes you sleep in – and yes, sleeping attire is required! Bring slippers if you want to. Please note that the main floor has all hardwood floors, which can be slippery.)
Walking shoes for exercising.
Personal toiletries (toothbrush, hair brush, etc.) and makeup
What we will supply for you:
All bedding, pillows, towels, washcloths, blankets
Exercise equipment (swiss balls, hand weights, yoga mats)!
A water bottle
Shampoo & conditioner, hair dryer
Soap
Tissues ☺
A shared computer from which you can check emails
Please DO NOT bring these contraband items:
Alcohol (This is an ALCOHOL-FREE ZONE)
Tobacco (This is also a TOBACCO-FREE ZONE)
Non-prescription drugs
Foods and sweets (as well as drinks)
Please note: We request that mobile phones are not used outside of the bedroom. This will allow you to gain greater benefit from your stay, and ensures other participants can also spend some time away from the outside world and the constant ringing of phones. However, if you have an emergency of some sort and need your phone to be with you, then we request that you discuss this with us and that it be left on silent for the convenience of others.